The Demand View Toolbar                                                                                 

Demand view toolbar contains icons that apply to the demand options, such as refresh, copy, edit, help, and back.
Icons of the demand view toolbar

| | |
| --- | --- |
| Icon | Description |
| | Refresh – reload the current document that you are viewing. |
| | Copy – make a copy of an existing demand values, you can copy the whole grid or choose period. |
| | Edit – edit an existing demand values |
| | Help – contains a link to the help page. |
Copy Demand Tab

Here you can copy a department's demand. You can copy demand in two different ways, such as From destination to destination or From source to destination.

Read more about the Copy Demand Section: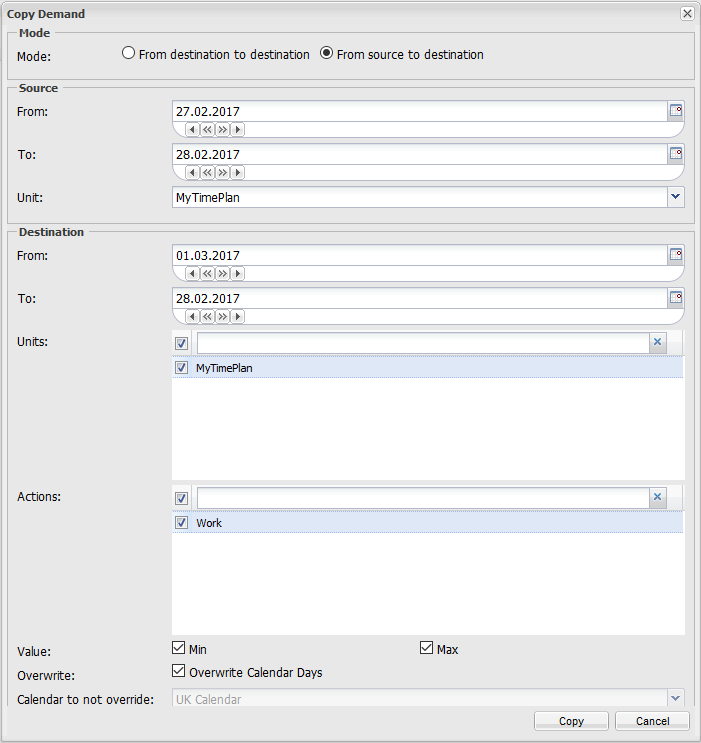 Edit Demand Tab

You can edit your demand values by choosing the department, job type, the min/max demand values, at any time and a day.
Unit– select the department you want to edit

Action – select action you want to edit

Date – select the date you want to make changes for

From Hour – To Hour – select period of time for which you want to make changes

Min Value – Max Value – fill the min/max values you want to set up. You can modify only these values what you need. If you want to change only min values, leave empty max values row.