New MyTimePlan Features

What's new?

As a valued MyTimePlan customer, we want to make you aware of the recent updates we've made to our application. The next time you use the MyTimePlan App, you'll notice a few changes that will make it much easier to plan your schedule. We'll keep going all out for new ways to make your life easier.
Shift Market

Employees can swap shifts amongst themselves, provided they both are qualified workers of the same department and do not break any rule you have set up for planning the company schedule. You always have to confirm the employees' shift exchange request.

First, the employee adds the Shift Exchange Order, and then his/her co-workers can propose a Shift for Exchange. The process of swapping have to be confirmed by the owner of the shift for exchange who accepts the most suitable offer and the group admin who confirms the employees' shift exchange.

1. The employee adds the Shift Exchange Order
| | |
| --- | --- |
| | 2. The co-worker propose a Shift for Exchange |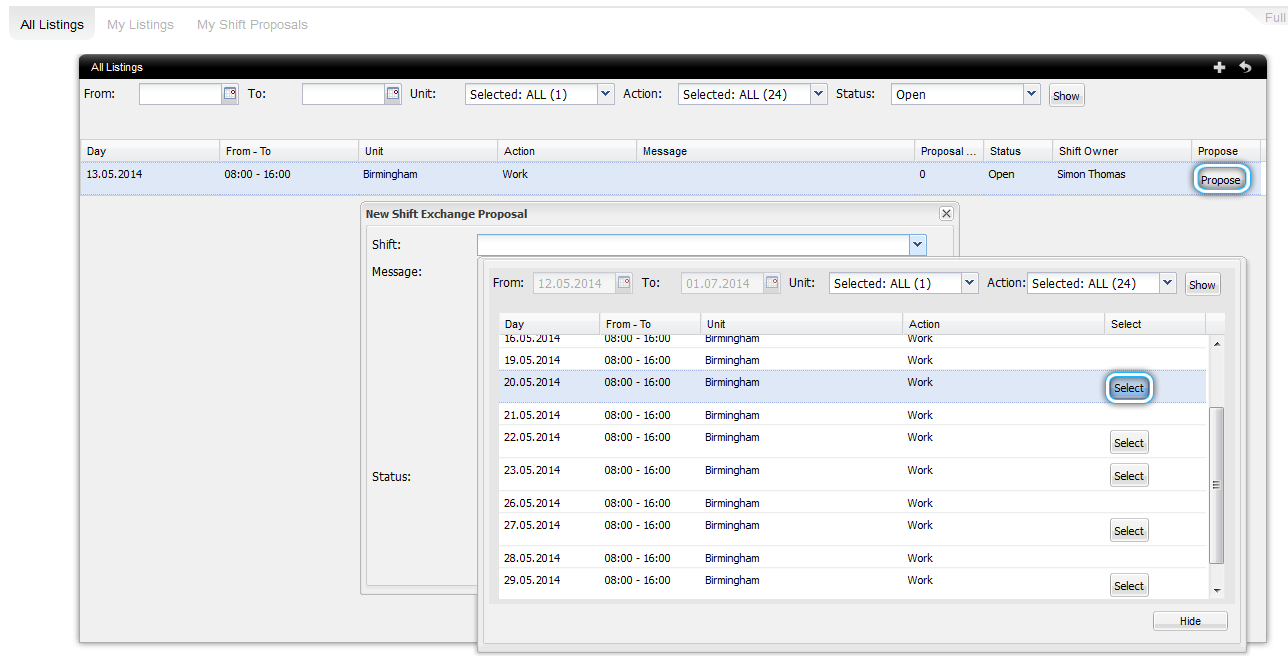 | | |
| --- | --- |
| | 3. The employee accepts the Shift Exchange Proposal |

| | |
| --- | --- |
| | 4. The Group Admin confirms the Shift Exchange |
Notification

Easier communication between you and your employees. You can get the notifications about changes in the employee' extra fields.

Add a new custom filed to the Employee Profile page
| | |
| --- | --- |
| | Tick the checkbox to activate the notification |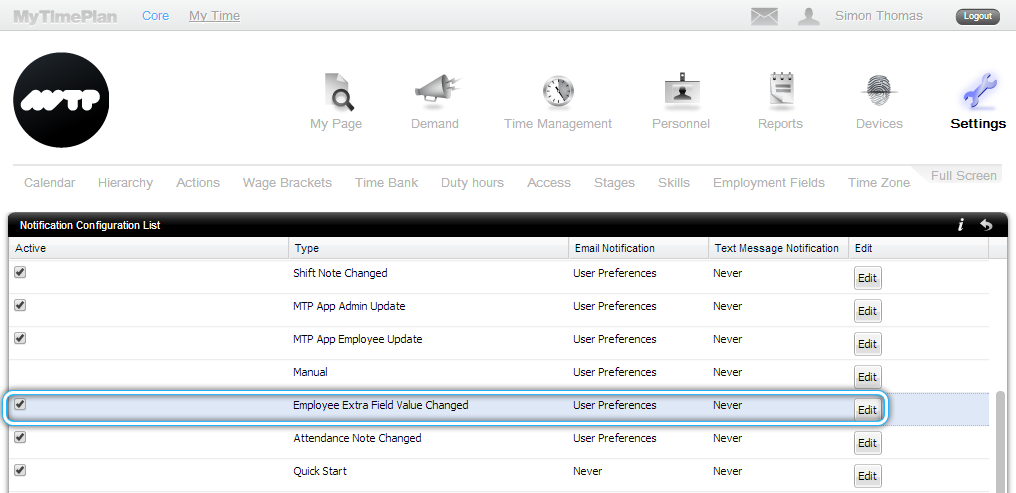 | | |
| --- | --- |
| | You and your employee will receive a notification about changes |

On your Notification Page in the MyTimePlan system

On your mailbox as an email notification

The Shift Tooltip – Accumulated Hours


We have added a new counting mechanism of the Time Bank which gives you quick information about the number of hours an employee is given over a whole working period.
There are three columns:
1 – This shift – the value (in days or hours) of the Time Bank which shows how many hours the specific shift is producing
2 – Selected Date– the amount of holiday hours that the individual has planned up to that day e.g. the number of accumulated balance of the Time Bank on 16.05.2014 is 27:00
3 – Accumulated Hours – the balance of total hours that the individual is left with after a shift has been either planned or taken
Export your employees' credits to Excel or PDF

You can export your employees' credits to printable PDF or editable Excel spreadsheets. Do it by clicking on the Export List icon.

In the Advanced Settings window choose orientation (landscape or portrait) and format report type (xlsx or pdf), then select on the left column what data would you like to see on your exported list and move it to right column. Click the Generate button when you are done.
| | |
| --- | --- |
| | For example, the employees' credits in Excel will look like that |
Get the New MyTimePlan Mobile App




MyTimePlan Mobile is an easy-to-use app that enables you to Clock In/Out to work by your phone, export your schedule to phone calendar, and receive the notifications from the mytimeplane.com system
Key features:

Clock In/Out to work
Check your schedule
Export the schedule to phone calendar
Receive the notifications on your phone
Keep track the time at work
Set up the calendar records reminder
Overtime Vibrating Alert
Low use of mobile data
Available in English, Icelandic and Polish language
Compatible with Android and iOS devices

Download either on the App Store or the Google Play
You can find out more about MyTimePlan. We are happy to hear from our users – chat to us on Facebook, or Twitter.

Have fun using MyTimePlan!

The MyTimePlan Team